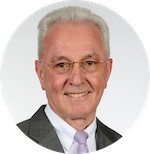 Anton Maurer
Retired from CMS Germany
WLG Board Member 1993–1997
How did you first get involved with WLG, and what led you to take on a leadership position?
I was sent by my firm Sigle Loose Schmidt-Diemitz & Partners (now CMS Germany) to attend the first meeting in Taipei, Taiwan. And I continued to attend until 2017 all of the semi-annual meetings with only three exceptions. Since I was a foreign intern with a Dallas law firm before WLG was formed, I always supported the WLG internship program because the more associates appreciate working in another WLG member firm, the stronger the referral basis will be. Therefore, I always reminded member firms to use this excellent opportunity to educate their associates and also learn more about other member firms. Later, I chaired the Corporate Transactions Practice Group for three years and we had interesting programs at every meeting.
Through your leadership roles, what did you learn about WLG and its value to members?
Many of the member firms of WLG are among the top five law firms in their jurisdictions; therefore, our original goal to have outstanding law firms in the commercial centers of the world was met. We learned from these outstanding members and we could entrust our clients to them. I was involved in many transactions and worked closely with many member firms. I also experienced that we can make the WLG stronger and more valuable for our members, the more we work together.

What is your advice to lawyers who want to get more involved with or take on a leadership position within the WLG network?
I suggest that they shall become active participants in the practice groups.

As we reflect upon our growth during our 35th anniversary, tell us about the changes you've seen in the network during the years you have been involved and what leads you to believe our best days are ahead of us.
The WLG did grow as the world economy grew and globalized. And there is good reason to think that the interdependence of the world economy will grow and therefore the need for excellent legal advice. WLG also got stronger over its many years of existence. Distinct from other similar associations that were eager to have members in all countries, WLG started with the idea to only have excellent members in the commercial centers of the world. We once had a limit of about 50 members to ensure that we know each other well and to form a personal relationship with the representatives of other member firms. And we we successfully met this goal.