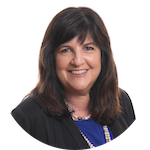 Janet Pahima
Herzog Fox & Neeman
Chair, WLG Responsible Business Forum
How did you first get involved with WLG, and what led you to take on a leadership position?
I was so lucky to be invited by one of our late founding partners, Michael Fox, to join him at a conference in Portugal over 20 years ago. The group was so warm and welcoming, and presented such great opportunities not just to meet lawyers from firms around the globe, but to become close friends. A couple of years later, a president-elect asked me to join the board – he had been impressed with how I had handled a difficult political situation at one of the earlier conferences. I was honored to join. In retrospect, serving on the board gave me a deeper involvement with the evolution of the network; working with a tremendous professional staff enhanced every aspect of WLG.


What was your most meaningful accomplishment during your time on the board?
I served on the board for a total of three terms. One major accomplishment was working on a comprehensive referral policy, presenting to the membership, and getting unanimous approval. It included an emphasis on prompt response and up to an hour of advice among members without charge, enabling our clients to get answers from jurisdictions all over the world without the need to engage a law firm to get a quick answer.
While serving on the Board, what did you learn about WLG and its value to members?
During my first two terms on the board, we had presidents that emphasized creating more value for member firms, way beyond attending semi-annual conferences. WLG created resources to share through practice and industry groups, practice management sessions, and over the last few years, more virtual events open to lawyers and professional staff of our members. A value that all members can share, even without being on the board, is the confidence in having contacts around the globe that you trust to assist your clients when they have a legal question, transaction, or problem.
This is WLG | impact month. How have forums and programs like the Responsible Business Forum, of which you are chair, and WLG | impact had an effect on the value of WLG to its members?
When I speak to a member firm that has a robust environmental policy with inspiring activities that only started because of their membership in our forum, I am filled with pride. That has been the greatest success to me. Not surprisingly, some member firms already have developed admirable CSR programs. Through the Responsible Business Forum, they have shared their experiences and we have seen the variety of activities that law firms can take to be responsible members of our local and legal communities. WLG impact focuses the whole WLG on the impact that we can have together, and within a few short years, we have created a tradition, which was exactly what we had hoped for. We did not implement WLG impact to differentiate ourselves from other legal networks. It is our differentiation as a wholistic value-oriented group that created WLG | impact.
As we reflect upon our growth during our 35th anniversary, tell us about the changes you've seen in the network during the years you have been involved and what leads you to believe our best days are ahead of us?
WLG has grown from a relatively small group of firms to an ideal size – small enough to connect on a personal basis with people from every firm, and yet large enough to cover all jurisdictions where we are active and need local support. We may continue to grow slowly, but we will not turn into a mega organization because the character of the WLG family demands a close-knit group. Besides size, professionalism and take-home value continue to develop. We know that we have an obligation as delegates attending semi-annual conferences to bring back more than business cards. We bring back updates on new developments in our practice areas and in our regions, we identify new trends and challenges, and we are always exploring new ideas to cooperate. As the globe seems to get smaller and smaller, the frequency of our need to interact with more and more countries increases. World Law Group is poised to serve this expansion and always serve as a safe haven for tackling struggles and opportunities together.