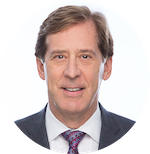 Jay Carfagnini
Goodmans LLP
WLG Board Member 1997–2001
How did you first get involved with WLG, and what led you to take on a leadership position?
I first became involved in the WLG in 1988 when, as a young partner, I was asked by my firm to attend the Stuttgart meeting. This was following a visit to our firm in Toronto by Dr. Klaus Kemmler and Tom Harrold, two of the founders of WLG, who met to explain their vision for the WLG and solicit our firm's interest in joining. After joining the WLG and participating in several meetings, I was asked by then-President Tom Harrold, to take on the newly created executive role as the Regional Director for the Americas.


How did your leadership roles in WLG help build your global network and impact your firm's collaborations with other network members?
From the outset, I was excited about the WLG. I had attended the IBA and the initial vision for the WLG was to meet around the time of the IBA meetings with a smaller, more intimate group of participating firms in order to expand our network. I soon realized, particularly as a young partner, that taking on a leadership role not only gave me and my firm a larger profile within the group, it was also a unique opportunity for me to engage with very senior and accomplished lawyers from firms based all over the world. In addition, at the time, several of our firm's clients like Four Seasons Hotels were expanding internationally, and the ability to reach out to trusted friends in eminent law firms in the WLG ensured top-quality work and resources for our clients. So from my perspective, the WLG was important both for potential inbound referrals as well as for outbound referrals. The silver lining of course is that many of my WLG colleagues became close personal friends to both my wife Karen and I.
What is your advice to lawyers who want to get more involved with or take on a leadership position within the WLG network?
In my view, it was very important to be in a leadership role and I would encourage other participants to do so. The extra work is worth it! At the time when I was participating on the Board there were many important issues to address for the long-term success of WLG. Matters such as the quality of member firms, location of new member firms, a peer review process, etc. Being in a leadership role allowed me to participate in some of these decisions, and also to appreciate the complexities and nuances involved. Where else can you engage with talented lawyers from all over the world with such diverse experiences in trying to solve complex matters?
As we reflect upon our growth during our 35th anniversary, tell us about the changes you've seen in the network during the years you have been involved and what leads you to believe our best days are ahead of us.
There have been so many changes over the years that they are difficult to enumerate. I would like to highlight just a few. WLG has come a long way from 10-12 firms and perhaps 15-20 or so participants in meetings to over 60 firms in 92 countries with over 21,00 lawyers and over 150 regular meeting participants! This expanded reach to more firms in more business centres in the world is of great benefit to all members. The introduction of an Executive Director and a permanent support staff created much greater consistency and proficiency within the organization. It led to a sophisticated hierarchy where subcommittees were formed and ongoing educational programs were offered to allow members to immediately tackle emerging issues and also led to the sharing of robust information and analysis amongst members. It has, I like to say, resulted in the "institutionalization" of the WLG- and with the leadership passing from the founders to the next generation of members and leaders, the continuity and success of the WLG as one of the premier referral networks in the world is assured.