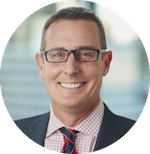 Jeremy Blackshaw, MinterEllison
WLG Secretary & Co-chair Energy & Infrastructure Group
How did you first get involved with WLG, and what led you to take on a leadership position?
I first became involved with WLG with the encouragement of Ian Davis, WLG's former President and former Chair of MinterEllison. Seoul was my first conference. MinterEllison became a member of WLG in the early days, and WLG has been an important part of our international strategy since we joined. Australia is very dependent on trade and investment flows, and international relationships have always been important for leading Australian firms. It is important to our firm (and to me personally) that WLG continues to thrive, so I was delighted to be offered an opportunity to contribute.
What has been the most meaningful accomplishment during your time as a board member?
One of the great strengths of WLG is the personal connections between the KCPs, so planning and successfully holding the first post-COVID conference in Lisbon stands out for me. Travel restrictions, infection rates, hotel commitments, mask and vaccine mandates and all of the myriad issues affecting travel during this period made the conference particularly challenging, but also very rewarding when our small but fantastic team and PLMJ successfully landed it. The untimely death of one of our WLG stalwarts so soon after the conference means we will always remember the conference with sadness, but it also stands out as a marker of our successful emergence from the pandemic.
While serving as a group co-chair and Key Contact Partner for your firm, what more did you learn about WLG and its value to members?
The depth of knowledge and experience across our network is truly astonishing. Whatever the issue or problem (or even location), we can find an answer! Like most things in life, the more you put in to WLG, the more you will get out of it. Being able to pick up the phone or send a message to someone you personally know in more than 80 jurisdictions is very powerful.
What is your advice to lawyers who want to get more involved or take on a leadership position in the WLG network?
Let the executive and your KCPs know. There are plenty of opportunities to make a contribution!
As we reflect upon our growth during our 35th anniversary, tell us about the changes you've seen in the network during the years you have been involved and what leads you to believe our best days are ahead of us.
The world is becoming increasingly more connected. Clients are becoming more global in their outlook and increasingly need either a local or global solution. WLG provides answers at both ends of the spectrum and has grown and adapted to changing business demands in a sophisticated way. I'm amazed that WLG manages to achieve so much with such a small team and a bunch of enthusiastic but busy practising lawyers. The major changes I have seen relate to improved connectivity between our member firms at different levels. WLG | exchange [our international exchange program], the relaunch of our Practice Groups, our joint publications, our ESG initiatives, and the development of our regional conferences have all created links between our member firms that go well beyond the KCPs.