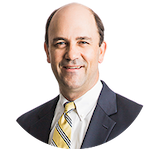 Joe DeLisle
Miller & Martin PLLC
Former Chair, WLG Business Development Committee and WLG Board Member 2016–2018
How did you first get involved with WLG, and what led you to take on a leadership position?
I am a corporate M&A partner at Miller & Martin in Atlanta, Georgia, USA. In 2012, my partner, Tom Harrold, one of the Founders of WLG, received a referral from Ian Davis at MinterEllison in Melbourne, Australia. MinterEllison had a publicly traded pharmaceutical client, Mayne Pharma, which was acquiring a sizeable company in the USA. I worked closely with Nick Broome, the MinterEllison partner who was the point of contact with Mayne Pharma in the acquisition. The transaction was very involved and led to many contacts between MinterEllison and Miller & Martin during the process. Miller & Martin continued to represent Mayne Pharma in the USA for several years thereafter. Following the transaction, Tom and I traveled to Australia to visit Ian, Nick, and their partners in Melbourne as well as Leigh Brown, a former Key Contact Partner of MinterEllison, in Sydney.
Following my work with MinterEllison for Mayne Pharma, I attended my first WLG Conference in Boston, Massachusetts, USA in the Fall of 2013, our 25th Anniversary. I have attended all of the conferences since that time except one. Seeing the benefits of the organization, I wanted to get more involved. At the Cartagena conference in Spring 2015, I was talking with Neil Sheehy, who was then the Americas Regional Director, about how he got involved and served in that role. Neil was completing his term at the Fall 2016 Conference in Houston, Texas, USA, and I followed Neil as the Americas Regional Director.
What has been the most meaningful accomplishment during your time as a member of the board and/or Business Development Committee Chair?
I served as the Americas Regional Director from 2016 to 2018. I served on the Board of Directors under both Swee Kee Ng of Shearn Delamore and Neil Sheehy of Goodmans. Prior to my service on the Board, the Americas Region had not had a Regional Conference. The EMEA and Asia Regions had been hosting Regional Conferences, aimed at involving junior partners and senior associates, for a number of years. The idea was socialized by the Board, and we planned the first Americas Regional Conference in New Orleans, Louisiana, USA in 2018. The conference was a great success, and my successors have continued this momentum, consistently holding Americas Regional Conferences since that date.

While serving in leadership roles, what more did you learn about WLG and its value to members?
While the inbound referrals are the obvious benefit that we, and our firms, can readily quantify and appreciate, the harder-to-measure, but equally beneficial, value we can each recognize by our affiliation with WLG is both the distinguishing benefits we can offer to clients and the increased work we undertake.
When we are in the market pitching to clients and being compared to other firms, we have to sell clients on why we are better and why they should hire us versus the competition. To be able to tell the WLG story to clients and how we each literally know at least two to four lawyers from 61 firms who are the leading firms in 92 countries is something that few, if anyone else, can say. Explaining the friendship, collegiality, integrity, and service provided by our WLG friends and then following it with prompt, premium service, galvanizes our relationships with our clients.
Furthermore, when we each refer clients to our WLG partners, it leads to more work for the referring lawyer, too. Typically, when one refers business out, there continues to be legal work that needs to be done in the home jurisdiction. If that business and referral does not come through the host firm, then some other firm in the home jurisdiction would be doing it. Additionally, when a client understands that we are each a gateway to worldwide legal services, we become top-of-mind to clients when they have needs outside the home jurisdiction. Having the WLG network to lean upon enables us all to be the first call our clients and contacts make when they have legal needs anywhere in the world.
What is your advice to lawyers who want to get more involved or take on a leadership position in the WLG network?
Say "yes." There are so many opportunities for all of us to get involved with the WLG – whether it's attending a session, participating in a blog, joining a committee or practice group, or speaking, attending or hosting an event. All of this takes time, which is precious in this profession, but saying "yes" and taking the opportunity is the first step to getting involved. The next is going deeper. After one joins a committee, let the leader or staff contact know you'd like to get more involved. WLG leadership and staff are constantly looking for good lawyers to get more involved and undertake projects or leadership positions.
An example of this was our decision to host a conference in Atlanta. For our colleagues who have hosted a conference, you understand that this is a daunting task. Every WLG | summit that we attend is such an impressive event. When attending a summit, one often wonders what it would be like to host a conference and what would it take to undertake such a responsibility and impress our colleagues. In 2017, Miller & Martin was invited to host the Fall 2020 conference. Receiving this invitation was both exciting and a bit overwhelming. Due to the pandemic, our opportunity was delayed until Fall 2022, but hosting WLG in Atlanta was one of the most meaningful experiences of my WLG tenure.
As we reflect upon our growth during our 35th anniversary, tell us about the changes you've seen in the network during the years you have been involved and what leads you to believe our best days are ahead of us.
When I joined as a Key Contact Partner at the Boston Conference in 2013, WLG had 48 member firms. Since that time, we have grown by more than 25%, adding 13 new firms. By broadening our coverage, we continue to be able to serve clients in an ever-growing footprint. Tom Harrold frequently makes the point that business has no borders. We never know where tomorrow's clients will need legal representation. Adding to our footprint and continuing to expand to new jurisdictions gives us all the opportunity to serve our home clients there and to receive inbound referrals from these new jurisdictions.