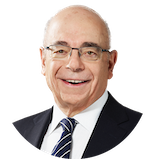 Robert Vineberg
Davies Ward Phillips & Vineberg
Former WLG President
How did you first get involved with WLG, and what led you to take on a leadership position?
I first got involved with WLG when King Berlew saw me at the IBA Conference in Strasbourg in 1987 (I believe) and told me that he was forming a network of prominent law firms throughout the world and asked whether our firm (then known as Goodman Phillips & Vineberg) would be interested in joining. I confirmed that we would be and thus our firm became one of the founding members. With respect to taking on a leadership role, for many years, I was an active participant in the conferences and in the governance of the WLG and thus when asked if I would assume the presidency, starting in 2005, I accepted with pleasure.

While serving as WLG President, what was your most meaningful accomplishment?
It's hard for me to say what was my most meaningful accomplishment, but certainly among them were the addition of several new members, the engagement of one or more new and excellent professional staff, and the successful negotiations which led to our conference in Beijing in 2007.
Through your leadership roles on the Board and Membership Committee, what more did you learn about WLG and its value to members?
My leadership roles in WLG powerfully reinforced my understanding that the practice of law is founded on relationships, not only relationships with the clients but relationships with lawyers in your own jurisdiction and in jurisdictions around the world. It is those relationships which drive a rewarding and successful practice and which must be created and nurtured.
What is your advice to lawyers who want to get more involved with or take on a leadership position within the WLG network?
I would simply tell lawyers who want to get more involved with or take on a leadership position within WLG that they will get substantially more out of it than they put in – yes, it will take time and effort and thought and judgment, but every leadership position is a learning process which builds both skills and relationships which will be invaluable in the development of your practice.
As we reflect upon our growth during our 35th anniversary, tell us about the changes you've seen in the network during the years you have been involved and what leads you to believe our best days are ahead of us.
I have been privileged to see WLG grow from a vision created by King Berlew to a thriving network of outstanding law firms spanning the world. Over the numerous years that I have been involved, the WLG has grown from strength to strength and I am sure that it will continue to do so and that it will grow and flourish.