Member Voices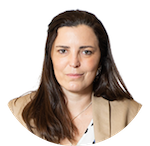 Gabriela Carissimo
First-time Delegate at WLG | summit Rome
Alfaro Abogados (Argentina)
Connect on LinkedIn
1. Briefly describe your practice.
My main experience is in litigation and administrative proceedings.
I lead our Compliance and Good Practices department, encouraging our clients to promote the adoption of and inspire the use of the best practices in Ethics and Compliance, understanding that organizational practices must comply with the applicable rules and regulations, as well as ethical principles and good governance practices, control and transparency.
I provide special advice on corporate debt restructuring, assist creditors and debtors in a wide range of bankruptcy proceedings, extrajudicial preventive agreements, and restructurings. In particular, I represent creditors in debt claims in the different steps of the restructuring and bankruptcy procedure, participating in litigation claims related to restructuring procedures, acquisition of insolvent companies, compliance with guarantees, and development of debt payment proposals.
My department represents the interests of the firm's local and international clients in complex litigation, such as restructuring proceedings, tax disputes, debt collection, enforcement proceedings, and corruption and fraud cases against disloyal employees, among others.
We have also participated in the resolution of legal and administrative disputes in arbitration proceedings and other dispute resolutions, both in the role of plaintiff as defendant.


2. You were recently a first-time delegate at WLG | summit Rome '23. Which session stood out to you, and why?
I found Plenary III: AI & Art - How Creativity is Becoming Synthetic by Massimo Sterpi (Gianni & Origoni) very interesting. I enjoyed the speaker's experience in real cases and his perspective on the topic.
3. Could you tell us about a recent client, marketing, or other collaboration with another WLG member firm?
Personally, I am working on a contract enforcement / collection matter referred by
Gianni & Origoni.
The firm has been working with Elaine Kumpala of Faegre Drinker (Illinois, USA) for many years on corporate matters.
4. What do you enjoy doing in your spare time?
In my spare time I like to share moments with my husband and children, read novels, and travel.