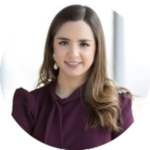 Lisa Carral
Associate at Santamaria y Steta
WLG | exchange Intern
1) What are the biggest challenges right now for lawyers in your practice area?
I believe that one of the biggest challenges for the M&A practice area has been adapting to digital communication with clients and counterparties. After the pandemic, most companies and firms still prefer holding virtual meetings even for relevant negotiations as opposed to face-to-face meetings, which may sometimes result in miscommunications and make it more challenging to understand the other party's needs and expectations.
Furthermore, unlike other practice areas, the M&A practice is dynamic, and a sense of urgency is key to closing transactions. It also relies on the rest of the areas of specialization. It therefore requires us to have a general notion of other areas of law and be able to coordinate with our specialized colleagues on several matters. Negotiation skills and technical knowledge of the target business are essential to stand out as an M&A practitioner.
2) Share an interesting client matter you've worked on.
Santamarina + Steta recently advised Grupo Industrial Saltillo, S.A.B. de C.V., in the sale of Vitromex, its ceramic tile business, to Mohawk Industries Inc., the leading global flooring manufacturer, for approximately USD 293 million. I was actively involved in drafting and negotiating the stock purchase agreement and other ancillary documents. The transaction's closing is subject to the approval of the Mexican Antitrust Commission and is estimated to occur during the second half of 2022.
3) Tell us about your experience so far as a WLG | exchange intern.
It has been a very rewarding experience. The MinterEllison Melbourne Transactional Solutions team and everyone else at the firm have been very welcoming. I have had the chance to be involved in a few Transactional Solutions team meetings and learn about some of their current projects, interesting firm policies, and what a day at the office is like for Australians. In addition, I get to share my experience of being an attorney in Mexico and working at Santamarina + Steta with the team.
4) Outside of work, what has been your favorite experience so far in your host country? (a place, cultural exchange, food, etc.)
I have enjoyed walking from the apartment to the office. Almost every place in Melbourne CBD is within walking distance, so there is always a good excuse to grab a coffee. Australian fauna is unique, and I took the opportunity to visit the zoo. My favorite experience so far has been attending the AFL finals (Melbourne Demons vs. Brisbane Lions) and having the whole experience of a "footie" game in Australia.