Member Voices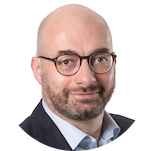 Roman Tarlavski
New Key Contact Partner
CMS Netherlands
Connect on LinkedIn
1. Briefly describe your practice.
I have been an M&A lawyer for 30 years, and am a partner at CMS Netherlands. I am often involved in cross-border M&A, structured joint ventures, and private equity transactions with a focus on the Technology, Media, and Telecom (TMT) and hotels and leisure sectors.
2. You were recently selected as a Key Contact Partner for your firm. Can you tell us what you hope to gain through WLG participation?
WLG is an exceptional network of excellent people spanning almost the entire globe. I work at one of the founding members of WLG and have had the privilege of working with excellent lawyers from other WLG firms over the years. I hope to further expand my network and to meet new people.
3. Could you tell us about a recent client, marketing, or other collaboration with another WLG member firm?
We completed two significant transactions last year. We assisted the shareholders of Bynder, a global leader in Digital Asset Management (DAM) headquartered in Amsterdam and with major office hubs in the United States, Spain, UK, Australia, and UAE. They sold a majority stake in the company to private equity firm, Thomas H. Lee Partners, L.P. (THL). In that transaction we worked closely with Locke Lord LLP (Massachusetts - USA) and MinterEllison (Australia).
In another transaction we advised the French Groupe BBL on its acquisition of the Share Logistics group, an international freight forwarding services provider, predominantly active in the field of air and ocean freight. Their offices are in the Netherlands, Germany, France, Spain, the United States of America, Panama, and Brazil. We received excellent support from Locke Lord LLP again, TozziniFreire Advogados (Brazil) and Arias Law (Costa Rica).
In both transactions we were impressed by the quality of the services provided by WLG firms and the speed of delivery.
4. What do you enjoy doing in your free time?
I wish I would have had more of it, but in my free time I enjoy working out and studying Italian. I am an avid cook and try to spend as much time in the kitchen as I can, whether at home or in a cooking club, of which I have been a member for quite some time.