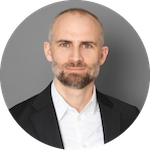 Torsten Torpe
Head of Legal Tech Innovation at Bech-Bruun
Member of WLG's Artificial Intelligence Group
1) As Head of Legal Tech Innovation at Bech-Bruun, can you tell us a bit about that practice?
I would not call my department a practice because we do not offer legal advice in its traditional form. Our job is to provide alternative digital legal services based on the legal advice that our lawyers provide to our clients. To put it simply - we look for every opportunity to extend and deliver our legal advice in a digital format.
2) What has been an interesting client project you've worked on?
We have worked on several interesting client-facing projects over the years, but there is one that I would like to highlight. We built a digital database that contains over 80% of the most frequently used templates. The implementation process showed us that many lawyers are, in fact, digitally prepared. So when a client asked us to help them become more digital and create an online template bank, our lawyers were able to utilize their newly acquired knowledge to help them build it. The client has been using the system for three years and is continuously expanding it.
3) Have you had any collaborations with any WLG member firms (client, marketing, or other) that you can tell us about?
Unfortunately, that has not happened yet. However, I would love to build my network, so please feel free to reach out if the case above sounds interesting
4) What do you enjoy doing in your spare time?
I love to ride my race bike in my spare time to keep myself in shape. Besides riding my bike, I have a passion for food and wine, and as often as time allows, I go to Italy or France to visit winegrowers and bring back the wine I have tasted. Along the same path, my favorite books are cookbooks, where I find inspiration for weekend cooking for family and friends.