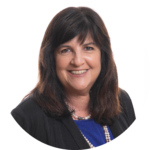 Janet Pahima
Partner at Herzog Fox & Neeman
WLG CSR Forum Chair

Why did you decide to become a lawyer?
It is crazy to think I was influenced by "Judd for the Defense", a television show, when I was in elementary school. My direction changed over the years, but I still became a lawyer.

What advice would you give to a woman considering going to law school?
If you can make the commitment, law school is strong preparation for a number of careers, not just in law. If we look at education as training us to think and analyze, we are well served by a law school education.

What advice would you give to a young female associate looking to make partner/advance her career?
Keep your eyes open. And keep it professional. There are opportunities for business development everywhere but your first obligation is to do an excellent job whenever you are given a task at the office.

What female has inspired you and why?
I love Phyllis Korff. She is a partner at Mayer Brown and former long-time partner at Skadden. She is the top in her field of securities law, and yet she is the ultimate caring, warm, grandmother. She lets her real personality shine through. She doesn't act like the typical Wall Street lawyer. And yet she is clearly brilliant and incredibly successful.

How do you balance your career and personal life?
Always a trick question.

Do you have any networking advice for women lawyers?
I like to reach out to other women when I network, whether at conferences, receptions, or other professional settings. It is important to be supportive. You have to believe you are networking with women because you believe that doing business with women is rewarding and fun. Don't forget to have fun.