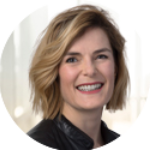 Partner at Lane Powell and WLG Young Lawyers Forum Ambassador
What advice would you give to a young female associate looking to make partner/advance her career?
Do not shy away from working with a tough colleague or partner. During my first few years at Lane Powell, I worked with a partner that was not afraid to tell me what I needed to do better, and although it was hard at the time, I knew that partner was invested in my success. I was constantly encouraged to think outside the box, and being pushed in that way undoubtedly made me a more thoughtful, patient, and creative advisor.
I also encourage female associates to get involved in their respective law firms and seek out opportunities to participate in firm activities, committees, or leadership roles and not to focus on just billable hours. Start as early as you can in your career to shape the culture of the business that you will ultimately own. Build the place where you are proud to work.
Finally, get to know your clients and referral sources - in person. Understand their business at an enterprise level, but also get to know the individuals with whom you are working. Always make every client (and referral source) feel like they are your most important client or source of work. It takes time, but it will pay off.
How do you balance your career and personal life?
I prioritize showing up for my daughter, and then I just make everything else work. It's not perfect, and I have definitely missed a school performance or two and had to reschedule a conference call here and there, but it works. I find a lot of peace in knowing that when my daughter is older, she will remember me being present, and that definitely motivates me to manage the odd hours.
I also find that my career and personal life often blend together. My Lane Powell colleagues are my friends and family. We genuinely like and respect each other, so work and events involving work colleagues are also fun and rewarding. The same is true about business development. Early in my career, I did everything you can think of in the name of business development: wrote articles, presented at CLEs, attended networking events, taught law school classes, and was active in Bar committees. Those experiences helped me understand that I could have fun doing business development with people I enjoy (WLG, anyone?!?!). I have also found myself on a number of non-profit boards where I feel like I can make a difference in my community with the added benefit of providing me with opportunities to work with business leaders in the Seattle area. It feels great to help the community and build a practice at the same time.
In the end, though, I think that I have also been extraordinarily lucky to find a home at a firm that values excellent client service, as well as diversity, inclusion, work-life balance, attorney and staff engagement, and happiness as much as Lane Powell does.
How does gender diversity within a law firm benefit its culture, as well as its ability to service clients?
Gender diversity is essential to signal internally and externally that a law firm values women lawyers as well as diversity, equity, and inclusion in the legal profession. Our firm's vision declares that "[w]e are a diverse and exceptional team devoted to maximizing value for our clients while strengthening our bonds with each other." Inclusive teams not only reflect the diversity in our communities, they also make better decisions and find more innovative solutions. This is key to fostering law firm culture, performance, profitability, and growth. In this way, gender diversity (or lack thereof) can impact the firm's culture, finances, client relationships, and recruitment and retention of talented lawyers. Gender diversity enhances client service by bringing together divergent perspectives, experiences, knowledge, and ideas to enable better problem-solving for clients and their businesses and boost team performance by enriching interactions with colleagues and clients. Clients are also attracted to diverse teams; gender diversity allows the firm to serve an increasingly diverse client base.