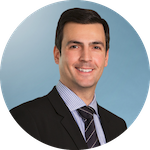 Jeremiah Posedel
Partner at Faegre Drinker
Member of WLG's Privacy and Data Protection Group and First-Time Summit Delegate
1) Tell us about your practice.
I counsel multinationals and other companies on information technology, data processing transactions, compliance issues, etc. My experienced insight supports clients whenever information technology assets and data are a part of business transactions or initiatives.
I am a certified information privacy professional (CIPP/U.S./Europe/Canada) and technologist (CIPT). I advise clients on matters including technology development and implementation, licensing, outsourcing, data privacy and cybersecurity, breach response, InsurTech, and e-commerce. I also serve as a go-to resource for clients in insurance, financial services, gaming, and data/technology services.
2) As a first-time delegate at our WLG | summit in Portugal, what are you most looking forward to?
Meeting other delegates and learning about their firms and practices.
3) If you've worked with other member firms before, can you tell us about a particular collaboration with another WLG member firm(s)?
I have worked with Taylor Wessing on several client matters and presentations, including developing a US privacy program for a German-based client.
4) What do you like to do in your free time?
I enjoy gardening, traveling, and spending time with my wife and our three dogs (Barney, Donut, and Bean).